London, November 04, 2016 – Greenbone, a leading provider of vulnerability management solutions, has announced a significant milestone for its security feed. The feed, which enables organisations to detect and manage security vulnerabilities on their networks, now exceeds 50,000 known vulnerabilities. Greenbone customers receive daily updates automatically as part of the Greenbone vulnerability management solution, 'Greenbone Security Manager (GSM)'.  
The Greenbone security feed incorporates the latest findings of security experts around the world. Greenbone then develops network vulnerability tests (NVT) focusing on those findings. Using this information and the scan function of the Greenbone solution, users can automatically analyse all network devices to find known and potential security issues. Since Greenbone's vulnerability database was established in 2008, Greenbone has added an average of 17 new security tests every day.
Lukas Grunwald, CTO of Greenbone Networks, says: "We are surprised about how quickly we achieved this tremendous number of tests. Looking at the ever rising number of vulnerabilities in combination with increasing networking, it is all the more concerning that many companies have not identified vulnerability management as an important part of their IT strategy. Preventive measures like this can effectively be implemented for a fraction of the costs associated with successful attacks."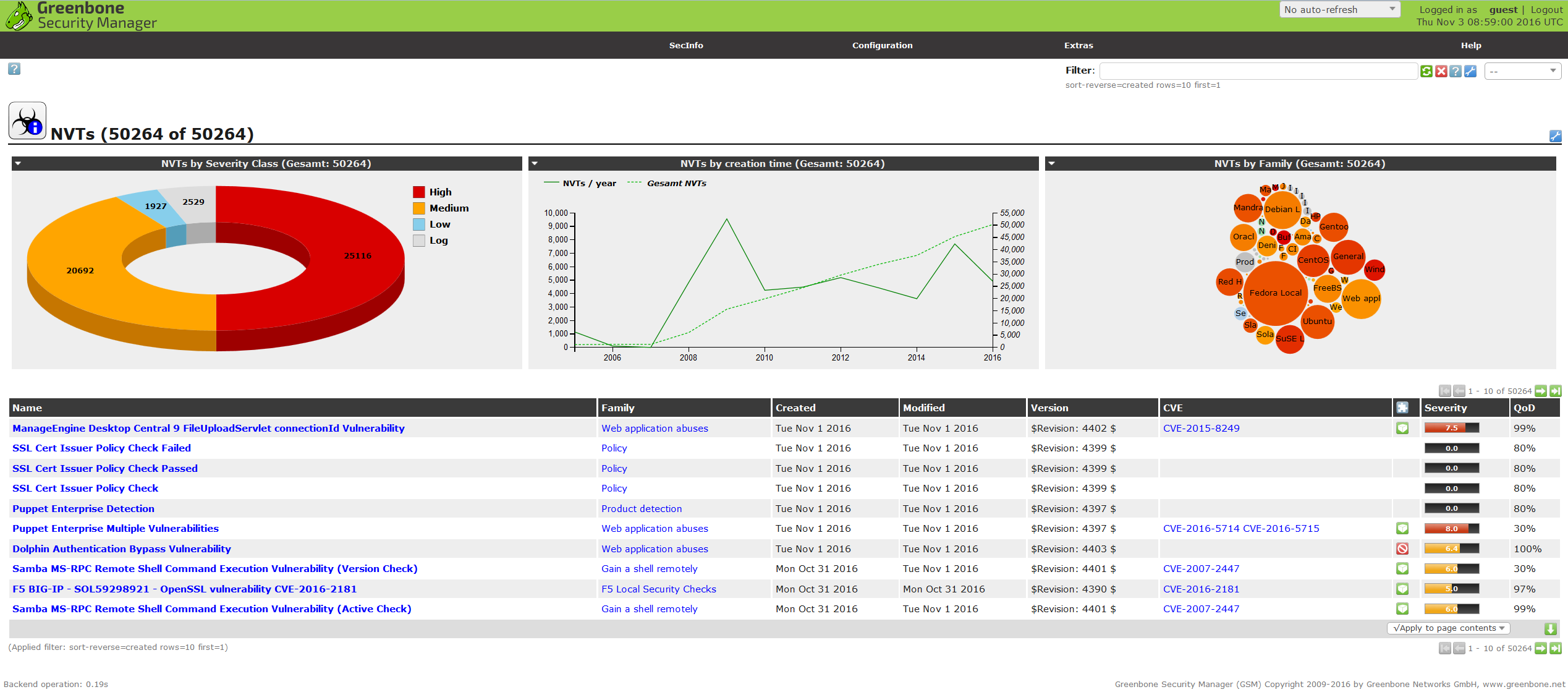 Risk monitoring: Greenbone now provides details on more than 50,000 potential vulnerabilities with an included risk assessment. The data bank can be accessed for free.
https://www.greenbone.net/wp-content/uploads/20161104_50000-NVTs.png
1119
2537
Greenbone Admin
https://www.greenbone.net/wp-content/uploads/01_Logo-mit-Schriftzug_500px_on_white_horiz1.jpg
Greenbone Admin
2016-11-04 10:18:05
2016-12-13 15:21:16
Greenbone Security Feed now exceeds 50,000 vulnerabilities