ISO Certification of Our Management Systems
We are proud to have received ISO certification of our management systems for the aspects of quality (ISO 9001) and information security (ISO 27001) at the end of 2021.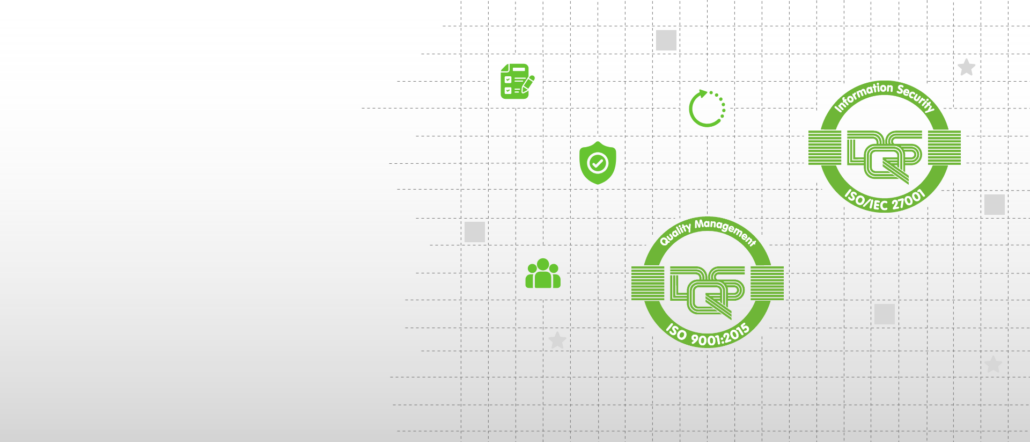 Our success makes us grow, and our growth promotes structure and processes. That is why we actively accompany the creation of structures and processes even more than in the past. In doing so, we are guided by the following goals:
Create value for our clientele
Provide great products and services
Continuously increase the satisfaction of our employees
Promote and manage our growth
When we decided to certify information security and quality in our company according to ISO 27001 and ISO 9001 standards, we took the specifics of an agile company into account from the very beginning.
ISO-certified management systems and agile management seem to be a contradiction, but they are not. In this article, we will briefly explain how these two worlds complement each other perfectly and how we combine the respective advantages in one company.
Although agility is not a goal in itself, we were aware that we wanted to run an agile company in an agile way. We understand it like this:
We have a common goal.
Clarity and explicitness in communication are prerequisites for results-oriented action.
Hierarchies are tools, not status functions.
Processes are paths to the goal, not goals themselves.
We have recognized that ideally we can use a toolbox that is as universal as possible in the different areas of our organization, which on the one hand helps us to organize our processes in the best possible way, and on the other hand leaves enough room for the different needs of the different teams and areas.
The concepts from worlds as different as "ISO" and "Agile" have helped us and continue to help us. What they have in common is that the concepts require management systems that are more similar in their basic structure than one might think.
It is always about:
Focus on sufficiently clearly defined objectives
Reliable and appropriate guidelines
Comprehensibly defined and helpful processes
Measuring points to evaluate, adjust and change as necessary
Supportive team members and servant leaders who operate within this structure
A continuous improvement process
This is what we call a management system and its inherent agility is defined by the context and purpose when it is applied. It allows us to measure the results and the quality of the processes through a system of objectives and performance indicators.
We are proud and happy that we could now certify our management systems very successfully for the aspects "Quality" (ISO 9001) and "Information Security" (ISO 27001). It helps us and it also helps you as our clientele. It measurably documents two very important characteristics that you expect from us and our products and services and that you ultimately want to ensure by using our products in your own organization, namely:
Security, and
Quality of information technology systems.
It's our mission at Greenbone to ensure this through one of the leading vulnerability management products. We do it every day, in over 100,000 organizations around the world.
https://www.greenbone.net/wp-content/uploads/Gb_New-logo_horizontal_head.png
0
0
Elmar Geese
https://www.greenbone.net/wp-content/uploads/Gb_New-logo_horizontal_head.png
Elmar Geese
2022-01-05 09:04:51
2022-01-05 09:09:17
ISO Certification of Our Management Systems